Syllabus Description: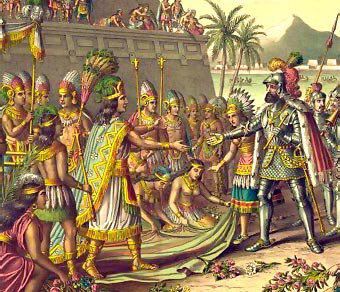 Montezuma meets Cortes (Manuscript illustration, ca 1600)
Click here for Assignments, Expectations and Grading
Click here for Course Policies
Click here for Course Materials
Click here for Office Hours and Contact Information
Click here for First Essay Topics
Click here for Second Essay Topic
Schedule of Reading
Week One
March 27:       
introductions
March 29:     
Read:  Bernal Diaz del Castillo, "History of the Conquest of New Spain"
Week Two
April 3:          
Read:  Anne McClintock, "Postcolonialism and the Angel of Progress" and "The Lay of the Land;" Anonymous Authors of Tlalteloco, "The  Story of the Conquest"
April 5:           
Read:  Bartolomé de Las Casas, "History of the Indies" and A Brief Account of the Destruction of the Indies
Week Three
April 10:         
Read:  Roxanne Dunbar Ortiz, excerpts from Roots of Resistance and Hopi People, "The Coming of the Spanish and the Pueblo Revolt"
April 12:         
Read:  Gaspar Perez de Villagrá, "The History of New Mexico" and Genaro Padilla, excerpt from The Daring Flight of My Pen
Week Four
April 17:         
Read:  William Bradford, Of Plymouth Plantation,  Book One, chapters IX and X, Book Two, Anno Dom 1620, 1621, 1622, and 1623 at: 
http://www.gutenberg.org/files/24950/24950-h/24950-h.htm and John Winthrop, "A Modell of Christian Charity"
April 19:         
Read:  Perry Miller, excerpt from Errand Into Wilderness and Amy Kaplan, "Left Alone with America"
Week Five
April 24:        
Read:   David Hall (editor), "The Examination of Mrs. Anne Hutchinson," Roger Williams, "The Bloudy Tenent of Persecution," Roger Williams, excerpt from A Key Into the Language of America"
and optional: John Winthrop, "Account of the Antinomian Crisis,"

April 26:         
Read: Anne Bradstreet, selected poems: "The Author to her Book," "Deliverance from a Fit of Fainting," "In Honour of that Most High and Mighty Princess, Queen Elizabeth," "In My Solitary Hours in My Dear Husband his Absence," "Prologue," "To My Dear and Loving Husband," "To My Dear Children," "Verses Upon the Burning of our House, July 10th, 1666" at http://eada.lib.umd.edu/author-entries/bradstreet-anne/
Week Six
May 1:            
Read: Mary White Rowlandson, "Narrative of the Captivity" (in So Dreadfull a Judgment)
May 3:            
Read: Mitchell Breitwieser, "The Strangers" (pp 131-158)
Week Seven
May 8:            
Read: Benjamin Church, "Entertaining Passages Relating to Philip's War" (in So Dreadfull a Judgment); also available at: https://quod.lib.umich.edu/e/evans/N01515.0001.001/1:3?rgn=div1;view=fulltext
May 10: 
Read:  Jonathan Edwards, "Sinners in the Hands of an Angry God" at https://digitalcommons.unl.edu/cgi/viewcontent.cgi?article=1053&context=etas
and Samson Occam, "Autobiography, Second Draft;" optional: Homi Bhabha, "Of Mimicry and Men"
Week Eight
May 15:          
Read:  Phyllis Wheatley, selected poems: "Farewell to America," "On being brought from Africa to America," "On the Death of the Rev. Mr. George Whitefield," "On Recollection," "To the Right Honourable William, Earl of Dartmouth," "Niobe, in Distress for her children," "To S.M, a young African painter," at http://docsouth.unc.edu/neh/wheatley/wheatley.html
and June Jordan, "Something Like a Sonnet for Phyllis Miracle Wheatley"
May 17:          
Read: Benjamin Franklin, The Autobiography of Benjamin Franklin, Parts One and Two
Week Nine
May 22:          
The Autobiography of Benjamin Franklin (all)
May 24:          
Read: Olaudah Equiano, Interesting Narrative (chapters I-VI)

Week Ten    

May 29:          
Read: Interesting Narrative (all) and optional: Houston Baker, excerpt from Blues, Ideology, and Afro-American Literature
June 1:            
conclusions
Catalog Description:
Examines writings from the earliest explorations of America, encounters with, and responses from, indigenous peoples, and colorization, through the early period of the United States. Readings may include a variety of genres from histories, captivity narratives, autobiographies, to the first novels and poetry of the republic.
GE Requirements:
Visual, Literary, and Performing Arts (VLPA)
Last updated:
October 17, 2018 - 10:10pm