Submitted by Arts & Sciences Web Team on
What do garment factories, garbage, and gender rights in India have to do with globalization? That's what a group of 22 UW students were learning about during their study abroad program to Bangalore, India, last summer. Called Social Justice and NGO Activism, the program investigates issues of development and human rights from an Indian—and more broadly Global South—perspective.
Dr. Anu Taranath founded the program in 2003 and has directed it for 10 years. A faculty member in English and Comparative History of Ideas (CHID), Taranath specializes in postcolonial literature and diversity pedagogies, and has received both regional and national recognition for her work, including UW's Distinguished Teaching Award.
Taranath's program partners with environmental justice and feminist rights organizations in Bangalore to explore the ways that caste, class, gender, religious, and educational differences play out and are shaped by international factors in this cosmopolitan city. Students last summer learned about Bangalore and its myriad social dynamics and also delighted in a range of tailor-made experiences: a two-day Theater of the Oppressed workshop, a special performance of a one-woman play rewriting the Indian classics, interaction with graduate students from a local university, an excursion to 12th-century temples, attendance at a classical musical concert, and of course, plenty of tasty South Indian delicacies throughout the trip!
In terms of study abroad programs, Taranath's is unique for its extended engagement with students. Her 2013 program began with a spring-quarter course, the summer in India, followed by another course in autumn quarter. Together from April to December, Taranath and her students became a tightly knit group of colleagues, comrades, and friends.
This camaraderie allowed for interactions of real depth, including discussions of oftentimes difficult issues of power, privilege, global ethics, and identity. The group's camaraderie also blossomed into an exciting collaborative book project that was published in April 2014. TIPS to Study Abroad: Simple Letters for Complex Engagement introduces a letter-writing assignment created for students to practice care and connection while abroad. The book collects and showcases thought-provoking letters to and about Things, Ideas, People, and Self (TIPS) written by the students during their time in India and encourages us to see ourselves and our surroundings anew. TIPS to Study Abroad offers a practical curricular tool for teachers and students interested in issues of cultural difference, and contributes to the broader conversation on social justice and international education.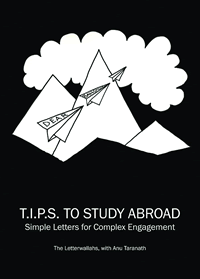 In addition to study abroad, Taranath also works on faculty development and curriculum transformation and has been offered two avenues to continue her work in this arena. On campus, she was recently selected as one of seven UW Diversity Fellows, and nationally she has been selected to the Fulbright's Specialist Roster, a program that allows her to collaborate with colleagues at international universities. Says Taranath, "I love what I do, and feel grateful to be in the company of so many amazing people both here at the UW and around the world."