Submitted by Arts & Sciences Web Team on
William Matchett taught English at the University of Washington from 1954 until he retired in 1982, but he has continued teaching and writing since leaving the university. His latest book, Airplants: Selected Poems, was published in 2013 and joins his two previous books of poetry, The Water Ouzel and Fireweed . He is also the author of Shakespeare and Forgiveness and co-authored, with his colleague Jerome Beaty, Poetry: from Statement to Meaning. He also has written stories, articles and other criticism, and his work has appeared in dozens of magazines, including The New Yorker, Saturday Review of Literature, Harper's and The New Republic.
William Matchett's poems have a sweet and convincing balance; he writes with economy, ease and naturalness. . . .

James Dickey
It took Matchett eight years to get through Swarthmore College, being interrupted by WWII, during which he was assigned as a conscientious objector, first to a Civilian Public Service camp in New Hampshire and then as a guinea pig to the Psycho-Acoustic Laboratory in Cambridge, MA. After graduation from Swarthmore in 1949, he married and returned to Cambridge to pursue a Ph.D. at Harvard. While there, he had a teaching assistantship working with students in Archibald MacLeish's immensely popular poetry course, and was one of the founders of the Poets' Theatre, active with it until his departure in 1954. In addition to Matchett's teaching at the UW, he spent nineteen year as editor of the Modern Language Quarterly, a period of association with Carolyn Kizer in editing the first year of Poetry Northwest, and a term as Chairman of the UW faculty Senate.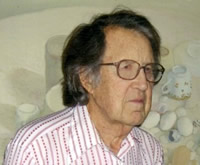 Matchett was born into a Quaker family and he is active with Seattle's University Meeting and had years of involvement with various projects of the American Friends Serviced Committee. He served on the University Hospital Board for ten years after its inception in 1978, on the Kitsap County Planning Commission from 1990 to 2003, and as President of the Hood Canal Environmental Council from 1992 to 2012. At 91, he has just begun to slow down.
Since, retirement, he has made his home on Hood Canal, where he and his wife had already been spending summers and where they have been much involved in environmental politics.
(from Airplants: Selected Poems)

Swamp Robin

Approaching the center of the island,
leaving at last the constant sound of the sea,
you climb an overgrown trail through a barren highland
past a dying tree
that is covered with scaling lichens and drying gums,
when, flowing suddenly into the virginal hush
and mounting phrase by phrase to enchant you, comes
the liquid silver of song of the Olive-backed Thrush.
Wait. Hold your breath.
The spell will be lost if the singer senses you near;
the song will cease which, hearing, you fear would be death
not to hear.