Submitted by Henry J Laufenberg on
Charles Johnson, Night Hawks (Simon and Schuster, 2018)
This new collection of stories from National Book Award winner Charles Johnson offers an eclectic range of narratives tied together by Buddhist themes and displaying all the grace, heart, and insight for which he has long been known.  Spanning genres from science fiction to realism, these stories convey messages of tolerance, hope, and gratitude.  Johnson creates memorable characters and depicts real, human struggles that have the power to enlighten and change us as we read. You can find an interview with Charles Johnson about Night Hawks and about his work more generally over on the UW News website.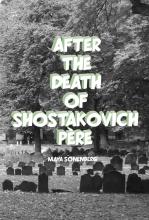 Maya Sonenberg, After the Death of Shostakovich Père (PANK Books, 2018)
Not all ghosts exact revenge or induce terror. Some emerge from a miasma of grief; sad themselves, they spread sorrow. Or perhaps those left behind—daughters and sons—create the ghost of a father trying to find what's surely been lost. Following the four-movement structure of Shostakovich's Suite for Two Pianos and using a mosaic of story, memoir, photographs, literary analysis, and her own father's journals, Maya Sonenberg's After the Death of Shostakovich Père is an extended lyric meditation on the death of fathers, both biological and artistic, and the ways in which haunting can produce art. 
Jesse Oak Taylor, Co-editor, Anthropocene Reading: Literary History in Geologic Times (PSU Press, 2017)
The Anthropocene epoch — a proposed name for the era of significant human effect on the planet and its systems — represents a new context in which to study literature.   Accessibly written and demonstrating a range of perspectives, this volume reinterprets the cultural past in relation to the anthropogenic transformation of the Earth system while showcasing how literary analysis may help us conceptualize this geohistorical event.  The Sierra Club read, appreciated and recommends Anthropocene Reading's demonstration of "why the era of what some are also calling the 'Great Acceleration' reaches into and affects so many fields, sciences, and disciplines."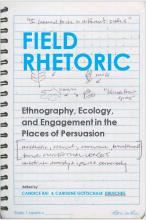 Candice Rai and Caroline Gottschalk Druschke, Editors, Field Rhetoric: Ethnography, Ecology, and Engagement in the Places of Persuasion (University of Alabama Press, 2018)
Field Rhetoric gathers innovative, transdisciplinary research emerging at the intersections of rhetoric, ecology, and ethnography from scholars working in English, communication, rhetoric, composition, media studies, environmental and technical communication, agronomy, biology, natural resources, and political science.  The authors gathered in this collection fuse rhetorical sensibilities and place-based approaches with field methodologies to illuminate the power of rhetoric within case studies that range from gentrifying urban spaces to water quality in Maine mudflats and from the effects of digital tools on field research to the human-scale effects of meritocracy within Kosovo's fragile democratic state.