Submitted by Henry J Laufenberg on
It occurs to English Matters that reading is not the exclusive province of those of us who stand at the fronts of classrooms.  The good people who staff our various offices are all-knowing regarding all things English Department, from managing programs, to managing facilities, to counseling and advising, to "I seem to have lost my office keys again."  So we decided to check in on what they've read lately and would recommend you check out.  As expected, our staff didn't disappoint!
Amy Feldman-Bawarshi recommends The Tiger's Wife, by Tea Obreht:  "By chance, a few years ago, I found The Tiger's Wife while walking past a neighborhood Little Free Library. What an unforgettable experience unfolded for me—a tale of magic realism so perfectly interwoven with vibrant imagery and stentorian impact, where reality and imagination blur, historical consciousness and mythos entwine, and the reader--this reader in particular-- remains mesmerized page by page.  Revelations unveil themselves in droplets: love, reconciliation, healing, and redemption emerge from the ashes of war, death, and despair as the novel shines the guiding light of symbolism on meaning-making. A beautifully written novel that plucked my heartstrings; I highly recommend this National Book Award finalist. 
Susan William recommends Last Hope Island: Britain, Occupied Europe, and the Brotherhood That Helped Turn the Tide of War and Citizens of London: The Americans Who Stood with Britain in Its Darkest, Finest Hour by Lynne Olson: "I was born during WW2 and have always felt that I should know more about the war and what it was like living through it as my parents did. I discovered a few years ago that I had six uncles serving in various branches of the military during WW2.  Olson's universally critically-acclaimed histories, focused on detailing the experiences of individuals over broad political overtures, have given me a clear window into what my family members endured during a global conflict the likes of which the Western world hasn't seen since."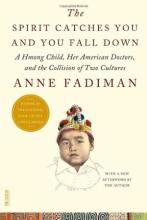 Ali Dahmer recommends The Spirit Catches You and You Fall Down by Anne Fadiman: "This book is heart-wrenching, frustrating, hard to read, but also hard to put down. Fadiman goes back and forth between a wide-sweeping history of the Hmong people and an intimate retelling of a particular Hmong girl's life in Merced, California. The Spirit Catches You manages to captivate its reader both emotionally and intellectually. If nothing else, go read the first chapter."  English Matters concurs; this modern non-fiction classic is widely read by contemporary college coeds across many disciplines, and is often selected as a "university common book" assigned to entire incoming classes of students – well worth picking up!
And finally Tim Bradford recommends Nebula Award winner Darwin's Radio by Greg Bear:  "I stumbled on this title at a little bookstore in Pike Place Market. It tells the story of a virus and the epidemiologist tasked with finding its source. Greg Bear expertly explains dense scientific topics without overpowering his great storytelling.  Bear develops interesting characters, some of whose stories unfold in Seattle and Washington state. Though fictional, the story tracks with the reality of cutting-edge science, including how viruses play a confirmed role in evolution.  Darwin's Radio is an enjoyable read even if you aren't a self-described 'biology nerd.'"