Submitted by Henry J Laufenberg on
Nancy Bou Ayash's book, Toward Translingual Realities in Composition: (Re)Working Local Language Representations and Practices, has been published by Utah State/U of Colorado Press.
Toward Translingual Realities in Composition is a multiyear critical ethnographic study of first-year writing programs in Lebanon and Washington State—a country where English is not the sole language of instruction and a state in which English is entirely dominant—that examines the multiple and often contradictory natures, forces, and manifestations of language ideologies. Focusing on language representations and practices at both the macro and micro levels, Toward Translingual Realities places the study and teaching of university-level writing in the context of the globalization and pluralization of English(es) and other languages. Individual chapters feature various studies that Bou Ayash brings together to address how students act as agents in marshaling their language practices and resources and show a deliberate translingual intervention that complicates and enriches students' assumptions about language and writing. The results offer insights into how writing teacher-scholars and writing program administrators can more productively intervene in local post-monolingual tensions and contradictions at the level of language representations and practices through actively and persistently reworking their curricula, pedagogies, assessments, teacher training programs, and campus-wide partnerships.
Linda Bierds' book, The Hardy Tree, has been published by Copper Canyon.
The Hardy Tree engages figures such as Thomas Hardy, Alan Turing, and Virginia Woolf in a thrilling exploration of power, oppression, and communication. Bierds flexes modes of agency in interactions with found, familiar, and invented texts—interrupting, troubling, and inhabiting borrowed lines and historical narratives, and unpacking the concept of coding, the seen and unseen signals we use to reach one another. The book takes its title from the ash tree that stands on the grounds of the old St. Pancras church in London, where gravestones for the unclaimed dead, once set in symmetrical rings around the base of the tree, have been moved by time and roots—like the texts in The Hardy Tree—into a haunting fusion of past and possibility.
Stephanie Clare's book, Earthly Encounters: Sensation, Feminist Theory, and the Anthropocene, has been published by SUNY Press.
A feminist approach to the Anthropocene that recovers the relevance of sensation and phenomenology, Earthly Encounters develops a fuller account of the lived experience of racialized gender formation as it exists on this planet, earth. It analyzes sensations: the chill of winter, the warm embrace of the wind, the feeling of being immersed in water, and a stifling sense of containment. Through this analysis in settler colonial and colonial contexts, in twentieth-century North America and Africa, Stephanie D. Clare shows how sensation is unevenly distributed within social worlds and productive of racial, national, and gendered subjectivities. From revealing the relevance of phenomenology, especially in the writings of Maurice Merleau-Ponty and Frantz Fanon, to debates concerning new materialism and affect theory, Clare shows how the phenomenology of race and gender must consider both the production of the body-subject and the environment. She concludes by making a case for the continued significance of sensation in the context of the Anthropocene.
Catherine M. Cole, Professor in Dance and English, recently published the book Performance and the Afterlives of Injustice: Dance and Live Art in Contemporary South Africa and Beyond with the University of Michigan Press.
In the aftermath of state-perpetrated injustice, a façade of peace can suddenly give way, and in South Africa and the Democratic Republic of Congo, post-apartheid and postcolonial framings of change have exceeded their limits. Performance and the Afterlives of Injustice reveals how the voices and visions of artists can help us see what otherwise evades perception. Embodied performance in South Africa has particular potency because apartheid was so centrally focused on the body: classifying bodies into racial categories, legislating where certain bodies could move and which bathrooms and drinking fountains certain bodies could use, and how different bodies carried meaning. The book considers key works by contemporary performing artists Brett Bailey, Faustin Linyekula, Gregory Maqoma, Mamela Nyamza, Robyn Orlin, Jay Pather, and Sello Pesa, artists imagining new forms and helping audiences see the contemporary moment as it is: an important intervention in countries long predicated on denial.
Gillian Harkins' book, Virtual Pedophilia: Sex Offender Profiling and U.S. Security Culture, has been published by Duke University Press.
In Virtual Pedophilia Gillian Harkins traces how by the end of the twentieth century the pedophile as a social outcast evolved into its contemporary appearance as a virtually normal white male. The pedophile's alleged racial and gender normativity was treated as an exception to dominant racialized modes of criminal or diagnostic profiling. The pedophile was instead profiled as a virtual figure, a potential threat made visible only when information was transformed into predictive image. The virtual pedophile was everywhere and nowhere, slipping through day-to-day life undetected until people learned how to arm themselves with the right combination of visually predictive information. Drawing on television, movies, and documentaries such as Law and Order: SVU, To Catch a Predator, Mystic River, and Capturing the Friedmans, Harkins shows how diverse U.S. audiences have been conscripted and trained to be lay detectives who should always be on the lookout for the pedophile as virtual predator. In this way, the perceived threat of the pedophile legitimated increased surveillance and ramped-up legal strictures that expanded the security apparatus of the carceral state.
Faculty Emeritus Charles Johnson's 25th book, Grand: A Grandparent's Wisdom for a Happy Life, was published by Harper Collins (Hanover Press) on May 5th. Before Grand was even released, it hit #1 on Amazon for Kindle pre-orders.  Vanity Fair published a long excerpt from the second chapter – read it here. In Grand, Johnson shares stories from his life with his six-year-old grandson, Emery, weaving in advice and life lessons that stand the test of time. "Looking at the problems I see in the world around me," Johnson writes, "I realize that there are so many things I want to say to him about the goodness and beauty that life offers. What are the perennial truths that I can impart to Emery that might make his journey through life easier or more rewarding?" Johnson shares these truths and more, offering profound meditations on family, race, freedom and creativity.
Monika Kaup's new book, New Ecological Realisms: Post-Apocalyptic Fiction and Contemporary Theory, is forthcoming in Edinburgh University Press's "Speculative Realisms" series (2021).
What is the singular reality of humanistic objects of study? To appreciate this, New Ecological Realisms argues, we need a new concept of the real that hinges on, instead of denying, organization and form. Advocating for a new contextual realism of complex and embedded wholes, actor-networks, and ecologies, New Ecological Realisms brings together four groups of theories/theorists that have never been considered together before, and who formulate such context-based realisms: Bruno Latour, Humberto Maturana and Francisco Varela, Markus Gabriel, Jean-Luc Marion, and Alphonso Lingis. This study further proposes that literature constitutes an important source of such new ontologies of organized wholes. Examining post-apocalyptic literature (by Margaret Atwood, José Saramago, Octavia Butler, and Cormac McCarthy) that depicts life after the destruction of modern civilization effected by pandemics and climate change, New Ecological Realisms argues that post-apocalyptic fiction also embeds a new contextual vision of the real, which is enacted in the narrative mode of apocalyptic endism.
Rick Kenney's book, Terminator, has been published by Knopf.
Love, science, and politics collide in this sharp assessment of who we are now, in a generous selection of work by the award-winning poet. The terminator—the line, perpendicular to the equator, that divides night from day—is the organizing concept for this collection, which examines a world where "pert, post-apocalyptic / entertainment trades have trod the pocked / planet raw." Kenney's division of light verse from darker poems serves to remind us that what makes us laugh is often dead serious, and what's most serious can be best understood through wordplay, an ironic eye, the cleaving and joining magically effected by metaphor. With grace and candor, Kenney thumbs through our troubles like a precious but scratched collection of vinyl: "the nature of emotion's analog, while languages are digital." From "Siri, Why Do I Wear a Necktie?" to the eternal springing of love ("Magnetic swipe to the blinking lock / is me to you"), Kenney reminds us that art's the best weapon to maintain our wits in very challenging times.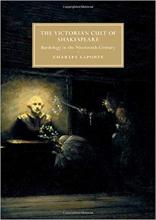 Charles LaPorte's book, The Victorian Cult of Shakespeare: Bardology in the Nineteenth-Century, has appeared with Cambridge University Press.
In the Victorian era, William Shakespeare's work was often celebrated as a sacred text: a sort of secular English Bible. Even today, Shakespeare remains a uniquely important literary figure. Yet Victorian criticism took on religious dimensions that now seem outlandish in retrospect. Ministers wrote sermons based upon Shakespearean texts and delivered them from pulpits in Christian churches. Some scholars crafted devotional volumes to compare his texts directly with the Bible's. Still others created Shakespearean societies in the faith that his inspiration was not like that of other playwrights. LaPorte uses such examples from the Victorian cult of Shakespeare to illustrate the complex relationship between religion, literature and secularization. His work helps to illuminate a curious but crucial chapter in the history of modern literary studies in the West, as well as its connections with Biblical scholarship and textual criticism.
Faculty Emerita Heather McHugh's book of poems Muddy Matterhorn has been published by Copper Canyon Press.
Heather McHugh's first book in a decade, Muddy Matterhorn, reclaims the mix of high and low that is her sensibility's signature, in matters practical and philosophical, semantic and stylistic, mortal and transitory, amorous and political, hilarious and heartbreaking. With fierce attacks on technology and social structures, McHugh finds a way to enjoy and empathize with humanity on her own terms. Ever the outsider, McHugh combines a strong sense of self with a determination to love people and the worlds they build without losing her biting criticism or witty rejection of societal norms and expectations. She is both pragmatic and theorizing, esoteric and identifiable. The joy and anger in these poems join to form an empowered and impassioned declaration of self in a chaotic time.
Kate Norako's chapbook, Nautilus, has been published by Dancing Girl Press.
Kate Norako's first poetry chapbook, Nautilus, reflects on the trauma of pregnancy loss and its aftershocks and the difficulties that come with miscarrying in a culture that, for all of its fixation on birth and pregnancy, does not make space for that particular kind of loss. The poems hone in not only on the losses themselves but on moments where the bereaved narrator has to navigate parts of their world whose sharp edges are all but invisible to others around them; the poems also reflect on the need not only for kindred spirits who understand one's grief, but on the need to speak that grief out loud without others attempting to police it. The collection invites readers into the poet's lived experience with the hope that readers will, in turn, arrive at a more empathetic understanding of this common but rarely acknowledged form of loss or will be able to take at least a little comfort in seeing experiences akin to their own brought out into the light. 
Rae Paris' co-edited book Education in Movement Spaces: Standing Rock to Chicago Freedom Square (with Alayna Eagle Shield, Django Paris, and Timothy San Pedro) has been published by Routledge Press.
Education in Movement Spaces "amplifies the distinct, intersecting, and coalitional possibilities of education in the spaces of ongoing movements for Native and Black liberation. Contributors highlight the importance of activist-oriented teaching and learning in community encampments and other movement spaces for the preservation and expansion of resistance education. With chapters from scholars, educators, and organizers, this volume offers lessons taken from these experiences for nation-state schools, classrooms, and spaces of teaching and learning that are most commonly experienced by Native and Black children and educators. Through attention to recent social movements across the United States—from Standing Rock to BlackLivesMatter—this book demonstrates the vital connections between Native and Black communities' educational futures."
Juliet Shields has two books from Cambridge University Press. Mary Prince, Slavery, and Print Culture in the Anglophone Atlantic World was published winter 2021. Scottish Women's Writing in the Long Nineteenth Century: The Romance of Everyday Life will be published late spring of 2021.  Check out Dr. Shields' recent interview in the UW Daily about these books.
Mary Prince, Slavery, and Print Culture in the Anglophone Atlantic World "examines a network of writers that coalesced around the publication of The History of Mary Prince (1831), which recounts Prince's experiences as an enslaved person in the West Indies and the events that brought her to seek assistance from the Anti-Slavery Society in London. It focuses on the three writers who produced the text - Mary Prince, Thomas Pringle, and Susanna Moodie - with glances at their pro-slavery opponent, James MacQueen, and their literary friends and relatives. The History connects the Black Atlantic, a diasporic formation created through the colonial trade in enslaved people, with the Anglophone Atlantic, created through British migration and colonial settlement. It also challenges Romantic ideals of authorship as an autonomous creative act and the literary text as an aesthetically unified entity. Collaborating with Prince on the History's publication impacted Moodie's and Pringle's attitudes towards slavery and shaped their own accounts of migration and settlement."
Second in the pair of books to be published, Shields describes the onus and focus of Scottish Women's Writing in the Long Nineteenth Century: The Romance of Everyday Life as follows:
Walter Scott's tales of chivalry and adventure inaugurated a masculinized Scottish romance tradition that celebrated a sublime and heroic version of Scotland. Nineteenth-century Scotswomen responded to Scott's influence by establishing a counter-tradition of unromantic or even anti-romantic representations of Scotland. Their novels challenged the long-standing claim that Scotland lacked any equivalent to the English realist novel. In turning from the past to the present and from the sublimity of Scott's Highland landscapes to farmhouses, factories, and suburban villas, Scottish women writers brought romance to everyday life, illuminating the magnificence of the mundane. Drawing on the evangelical discourses emerging from the splintering of the Presbyterian Church in 1843, they represented fiction as a form of spiritual comfort, an antidote to the dreary monotony and petty frustrations of daily existence. This volume introduces the previously overlooked tradition of nineteenth-century Scottish women's writing, and corrects previously male-dominated histories of the Scottish novel.
Shawn Wong is coeditor of the newest, 3rd edition of Aiiieeeee!: An Anthology of Asian American Writers published by the University of Washington Press.
In the mind of mid-twentieth-century white America, "Aiiieeeee!" was the one-dimensional cry from Asian Americans, their singular expression of all emotions—it signified and perpetuated the idea of Asian Americans as inscrutable, foreign, self-hating, undesirable, and obedient. In this anthology first published in 1974, Frank Chin, Jeffery Chan, Lawson Inada, and Shawn Wong reclaimed that shout, outlining the history of Asian American literature and boldly drawing the boundaries for what was truly Asian American and what was white puppetry. Showcasing fourteen uncompromising works from authors such as Carlos Bulosan and John Okada, the editors introduced readers to a variety of daring voices. Forty-five years later, the radical collection continues to spark controversy. While in the seventies it helped establish Asian American literature as a serious and distinct literary tradition, today the editors' forceful voices reverberate in contemporary discussions about American literary traditions. Now back in print with a new foreword by literary scholar Tara Fickle, this third edition reminds us how Asian Americans fought for—and seized—their place in the American literary canon.