Submitted by Henry J Laufenberg on
Graduate Student Awards and Achievements
Sumayyah Daud has just published her first Young Adult novel, Mirage, and gave a reading at Elliott Bay Books on Aug. 28.  In the few short months since its release, Mirage has been critically successful with professional (the Christian Science Monitor calls Mirage "a YA marvel that weds sci-fi with courtly intrigue") and amateur critics alike; literally thousands of everyday readers have weighed in on popular book review websites.  It's available in all formats, including audiobook, for the reading pleasure of your teen and/or the teen in you.  Also noteworthy is the fact that Ms. Daud has met all her Ph.D. program benchmarks on time while writing this commercially successful novel.  Color English Matters impressed.
Elizabeth Janssen has been selected to receive the Graduate School Presidential Dissertation Fellowship for use during 2018-2019. This is a prestigious honor; Liz should indeed be proud of this accomplishment.
On October 27th 2018 the ever busy Sarah Faulkner, of JaneFest 2017 fame, organized and hosted the University of Washington's iteration of Frankenreads, "An international celebration of the 200th anniversary of Mary Shelley's Frankenstein for Halloween 2018 organized by the Keats-Shelley Association of America."  Fuller coverage will follow in the Spring 2019 issue of English Matters.
A cadre of our grad students has been selected by the Walter Chapin Simpson Center for Humanities for awards funding a variety of interesting projects and initiatives in the 2018-2019 academic year:
Under the rubric of "Cross Disciplinary Research Clusters," Laura De Vos is the only graduate student among five professors (including the English department's own Professor Chadwick Allen, Associate Vice Provost for Faculty Advancement) teaming up to develop a graduate certificate program in American Indian and Indigenous Studies.  Given how many graduate students on campus are already working in these areas without recognition, the need for a certificate program is clear.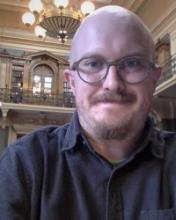 The English Department's remaining five graduate student award winners are tasked with heading "Graduate Research Clusters."  We'll list awardees, followed by the titles of their projects; click on project titles for detailed descriptions and biographies of each grantee in relation to the work they're taking on.  Also related to Indigenous Studies, Lydia Heberling's project is the Indigenous Studies Graduate Student Research Cluster.  Matt Poland is funded to lead a graduate research cluster in Eighteenth and Nineteenth Century Studies.  Chelsea Grimmer co-leads the Genomics Salon, and also will be the only English major among civil engineers and fish scientists co-leading the Interdisciplinary Freshwater Exploration Series on Dams.   Ungsan Kim will partner with colleagues from Comparative Literature and History for a research cluster on Inter-Asian Historiophoty.  Congratulations to these young scholars.
Likewise, a veritable slew of our graduate students have been awarded the Expository Writing Program's Diversity, Equity, and Inclusion Collaboration Grant, for the development of resources, curriculum, and initiatives focusing on the grant's title issues.  The English Department congratulates recipients, and thanks the University's Office of Minority Affairs and Diversity for a seed grant supporting this work.  Here are our winners:
Sumyat Thu, Sara Lovett, and Zhenzhen He-Weatherford: Materializing Translingualism in the Writing Classroom.
Lydia Heberling, Sebastian Lopez Vergara, Leah Rubinsky, Elizabeth Schoffner: Interdisciplinary Work Group for the Generation of Indigenous-Centered Curricula.
Sarah Ghasedi, Dana Woodcock, Olivia Hernández, Jacki Fiscus, and Emily George: Workshop Series: Antiracist Pedagogies Across Disciplines.
Stephanie Hankinson, Elizabeth Janssen, and Alexandra Smith: EWP special issue of Process: Journal of Multidisciplinary Undergraduate Scholarship On Equity.
Lubna Alzaroo, Matthew Hitchman: Equity-Based Curriculum for Incoming TAs to Teach Collaboratively.
Every year the English Department's Undergraduate Education Committee and Expository Writing Committees decide on teaching awards that recognize outstanding teachers among the department's cohort of bright and talented graduate instructors.  For the 2017-2018 academic year the winners of these awards are:
Winner of the Richard J. Dunn First Year Teaching Award is Drew Hereford. The Dunn Award Honorable Mention recipients are Nanya Jhingran and Jasmine Khaliq.
Winner of the Joan Webber Award for Outstanding Teaching by a Graduate Student in English Department Writing Programs is Denise Grollmus. The Webber Award for Writing Program - Honorable Mention recipients are Jessica Holmes and Olivia Hernandez.
Winner of the Joan Webber Award for 200-level teaching is Emily George.
In celebrating these achievements, we would like to recognize and thank the generous donors who make these and other endowed English Department scholarships and awards possible.  They give our talented graduate students opportunities to accrue distinction as they face the reality of competitive academic job markets.  They give our grad students financial support when most are feeling particularly pinched in ever-costly Seattle.  They allow the English Department itself opportunity to convene over good work and best practices and to collectively reflect on ways in which things around here are being done right.  From all of us, thank you for caring.

And, dear readers, might we gently remind that any support you direct to the English Department will also be put to very good use, and be deeply appreciated?  If you are curious to explore the possibility of giving to the department, please visit our support page to donate directly to any of our list of existing funding initiatives.  We thank you again for your contributions to our worthy cause!