Submitted by Henry J Laufenberg on
Stephanie L. Kerschbaum joins the department as Associate Professor and Director of the Expository Writing Program. She completed her PhD at the University of Wisconsin in 2005 and held positions at Texas A&M University and the University of Delaware before moving to UW in 2021.
Dr. Kerschbaum's first book, Toward a new Rhetoric of Difference, offers a theory of marking difference to understand how difference circulates and is taken up in everyday conversations and interactions. This theory is important for writing teachers and researchers who are interested in understanding how mundane, everyday interactions are consequential for broader cultural and institutional change. After its publication, Toward a New Rhetoric of Difference was awarded the "Advancement of Knowledge Award" from the Conference on College Composition and Communication.
Her co-edited collection, Negotiating Disability: Disclosure and Higher Education, was published by the University of Michigan Press in 2017. A collaboration with Laura T. Eisenman and James M. Jones, this book grew out of the 2013 Disability Disclosure in/and Higher Education conference sponsored by the University of Delaware's Center for the Study of Diversity.
As a deaf academic, Stephanie frequently draws on her own experiences being the only signing deaf person in many of the environments she moves through to deepen her understanding of marking difference.  She has been recognized locally and nationally for mentoring and faculty development work, most recently with the Lisa Ede Mentoring Award from the Coalition of Feminist Scholars in the History of Rhetoric and Composition.  Dr. Kerschbaum is currently working on a book project titled Signs of Disability. Early parts of this project have been shared in the journals College English and enculturation.
Frank Macarthy joins the English Department as a lecturer in the Interdisciplinary Writing and Expository Writing Programs, teaching technical communication, multimodal composition, and linked writing courses. His graduate study was at Illinois State University, where he focused his studies on digital technofeminism and multimodal composition. Macarthy's work attempts to emphasize the ways in which material bodies are represented, underrepresented, and misrepresented in digital spaces, especially in augmented and virtual realities. His dissertation, Breaching the Screen: A Digital Technofeminist Methodology for Virtual and Augmented Realities interrogates the impact of body tourism and how digital technofeminist frameworks can allow for more just understandings and perspectives of digital material bodies. Frank's co-authored essay "Emphasizing Embodiment, Intersectionality, and Access: Social Justice Through Technofeminism Past, Present, and Future" can be found in Computers and Composition Online, and he is also published in Rhetoric Review.
Frank Macarthy held previous academic positions at Illinois State University, University of Pittsburgh, Duquesne University, and most recently, Jamestown Community College. Over the past eight years, he has taught a range of composition courses from first-year to multimodal. Each position afforded the opportunity to work with a wide range of student populations, experience integral to Macarthy's research in and passion for teaching.
When he is not lost in virtual and augmented spaces, Frank enjoys real world wilderness: he's and avid hiker, and would spend the rest of his life on the water … if he could teach from a kayak!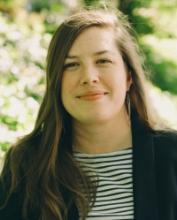 Anna Preus joins the English Department's faculty as an Assistant Professor. She holds a PhD in English from Washington University in St. Louis (2021), and her research and teaching focus on 20th-century literature in English and data science in the humanities.
At Washington University, Preus was a Mellon/ACLS Dissertation Fellow, a Senior Fellow in the Humanities Digital Workshop, and also recipient of a Dean's Award for Teaching Excellence. Broadly, her work considers how historical print cultures are being transferred online through large-scale text digitization efforts and how new digital resources can help us tell different kinds of stories about literary history. Her current project, Publishing Empire: Colonial Authorship and British Literary Production, 1900-1940, examines the production histories and printed forms of texts by authors from areas colonized by Britain, tracing the marketing efforts surrounding their works from small, fine-press editions at the turn of the 20th century to mass-market Penguin paperbacks at the beginning of the Second World War.
Dr. Preus is currently finishing up a co-edited digital edition of Hope Mirrlees's modernist long poem Paris and working on a related piece on depictions of imperial failure in Post-WWI metropolitan capitals. Her writing has appeared in Feminist Modernist Studies and is forthcoming in Modernism/Modernity Print+.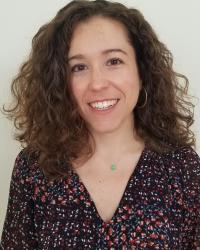 Cristina Sánchez-Martín joins the English Department as an Assistant Professor.  She completed her PhD in 2018 at Illinois State University, after which she worked as Assistant Professor at Indiana University of Pennsylvania.  At UW, she has joined the wonderful faculty in the MA TESOL program, where she teaches courses like Discourse Analysis or the Practicum (among others). She also teaches other undergraduate courses about English from a critical applied linguistics perspective. 
Her research is about the intersections of language, writing/literacy, and identity from transnational feminist and decolonial perspectives. Her research interests also include teacher education, mentoring, and translation studies. She is currently serving as chair-elect of the Non-Native English Teacher (NNEST) TESOL International interest section.  Dr. Sánchez-Martín's work is published in TESOL Quarterly, Journal of Multilingual Education Research, Journal of Second Language Writing, Computers and Composition, Poroi, and several edited collections. 
Outside of work, Cristina loves spending time learning about the PNW, visiting parks, reading her favorite authors like Elena Ferrante, Joy Harjo, and Elizabeth Acevedo, and listening to Rosalia.