Submitted by Henry J Laufenberg on
Faculty and Staff Notes
Newest things first.  On September 19th baby June Mary Callow joined Interdisciplinary Writing Program incoming Director Megan Callow, her partner Adam, and young son Coleman.  The Callow family's Husky roots run deep: June Mary Callow is a direct descendant of Russell "Rusty" Callow ('15), head coach of some of the legendary Husky Crew teams featured in the New York Times #1 bestselling nonfiction book, The Boys in the Boat: Nine Americans and Their Epic Quest for Gold at the 1936 Berlin Olympics.  Congratulations from the whole department!
Retirements and Other Departures
In the spring of 1973, the English Department hired a new assistant professor from the University of California, San Diego, a "Romanian Romanticist," and the ensuing forty-five years made it abundantly clear that the hire was a coup. Professor Raimonda Modiano retired last spring after a long and distinguished career as a Professor in both English and Comparative Literature. She is the author of Coleridge and the Concept of Nature (1985) as well as numerous articles and book chapters on Coleridge, Wordsworth, and British Romanticism.  She also served as co-editor of Coleridge's marginalia on German authors for vols. 2-6 of the Princeton edition of The Collected Works of Samuel Taylor Coleridge, and co-edited the Norton edition of Coleridge's Poetry and Prose (2004) and Voice, Text, and Hypertext: Emerging Practices in Textual Studies (2003). Her numerous grants and awards include fellowships from the American Council of Learned Societies and the National Endowment for the Humanities. In addition to writing, editing, and carrying out her duties teaching undergraduate and graduate students, she co-founded and co-directed the University's Textual Studies program, served as director of the Comparative History of Ideas and English Italy Study Abroad Programs, teaching regularly in Rome. She received the University of Washington's Distinguished Teaching Award (1994) and the Marcia L. Landolt Distinguished Graduate Mentor Award (2004). She might well be the only UW faculty member to have ever received both of these prestigious awards. Join us in wishing her a long and delightful retirement!
Also retiring this past summer is Katherine Cummings, who does so with the distinction of Associate Professor Emeritus.  Professor Cummings' main focus of specialization is literature, culture and sexuality studies, with a commitment to a cultural studies methodology and ongoing interests in critical race studies and queer studies.  She has published widely in these areas, including Telling Tales: The Hysteric's Seduction in Fiction and Theory, published by Stanford University Press.  In addition to serving as Graduate Studies Director (we continue to benefit from several policies and best practices she helped establish), she was much sought after and highly regarded as a graduate student mentor.  Her teaching prowess was also well-known among undergraduates; Dr. Cummings consistently had among the highest student teaching ratings in the department and was twice awarded our department's Outstanding Teaching award.
It is also well worth noting that front office staff stalwart and everyone's favorite administrative coordinator Janie Worm has taken a position at Edmonds Community College.  English Department Administrator Carolyn Busch expressed our bittersweet feelings about Janie's leaving: "Her sweet, kind, helpful presence will be sorely missed and her absence will leave such a void!  However, I can't help but feel that her new position was tailor made and meant to be for her. She will be working outdoors much of the time with, among other things, the recycling, composting, greenhouse and facilities services (and for extra entertainment she can work in their gardens!). And being just over a mile from home she can even commute by foot!" Congratulations, Janie we'll miss you!!
Promotions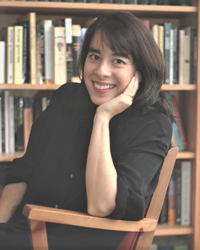 Pimone Triplett and Alys Weinbaum have achieved the landmark of promotion to the rank of Full Professor.  Professor Triplett's most recent book of poems, Supply Chain, is glowingly reviewed by UW News, where you can read one of the poems contained therein and learn some of Triplett's thought on her latest work.  Dr. Weinbaum's newest book, The Afterlife of Reproductive Slavery: Biocapitalism and Black Feminism's Philosophy of History, is to be released by Duke University Press in March of 2019.  You can listen here to Dr. Weinbaum giving an invited lecture on the subject at the 2017 Benjamin Rabinowitz Symposium on Medical Ethics, hosted by the University of Washington's Philosophy Department.
Funding News and Awards
The Simpson Center for the Humanities has completed its latest round of grant funding, and four English faculty members have been announced as beneficiaries:
Under the Simpson Center's Next Generation Humanities Ph.D. rubric, Professor Juliet Shields will develop a humanities career exploration course.
Professor Jesse Oak Taylor will co-direct a Crossdisciplinary Research Cluster on The Anthropocene.
Affiliate Professor of English Christine Chaney, will, along with current Professor in Comparative Literature and former chair of the English Department Gary Handwerk, receive funding to head up the Texts and Teachers program.  This curriculum-development program and university/high school collaboration offers dual-credit, linked classes to more than 400 students in ten local high schools each year.
Professor Gillian Harkins joins a worthy cohort of faculty from Geography, Political Science, and History as a recipient of the 2018-2019 Simpson Center Public Scholarship/Community Engagement Award.  The funded project is the Prison Education Collaboration, an initiative that works with currently incarcerated teachers to co-create best practices for equitable collaboration across institutional walls.
Gillian Harkins has also developed a new graduate seminar based on her work as a 2016 Mellon Summer Fellow for New Graduate Seminars in the Humanities. The fellowship, part of the Simpson Center's Reimagining the Humanities PhD and Reaching New Publics program, gathers a cohort of UW faculty to develop new courses with significant public scholarship components. The course, Collaboration Across Walls: Public Scholarship as Means or Ends, explores public scholarship as both an outcome and a method of inquiry. It focuses on issues of incarceration and critical carceral studies.  Read more here.
Kate Cummings and Jeffrey Knight are this year's faculty winners of the English Department's Outstanding Teaching award, juried and conferred by our Undergraduate Education Committee.  Hundreds of thrilled students concur.  Congratulations on jobs well done!